Quick Reviews of the Best Forex Brokers
Searching for the best Forex broker can be a challenge. We have conducted a lot of research on Forex brokers and have chosen two of the very best of the websites which impressed us the most in terms of spread, features, accessibility, and customer service.
Below you'll find a top list of the best Forex brokers that we created after evaluating multiple criteria that included aspects such as the quality of services, past history of the broker, spread, number of assets available, types of contracts offered, legality of services and much more.
1. EightCap has a strong reputation and it is easy to see where it comes from. They have the lowest spreads of all brokers. Click the picture below to get a trusted broker if you don't already have one.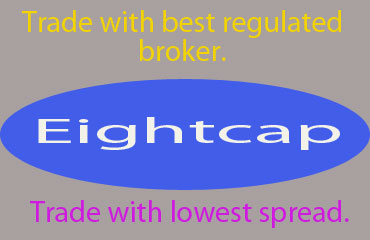 EightCap Regulations
EightCap is regulated by the Australian Securities and Investments Commission (ASIC) and holds an Australian Financial Services License #391441. ASIC is one of the most stringent financial regulatory bodies in the southern hemisphere. The regulatory body is focused on protecting the legal interests of investors that deals with the services of an Australian financial services provider. For example, ASIC requires EightCap to maintain segregated accounts for its clients' funds at the National Australia Bank (NAB) in accordance with the Australian Client Money Rules. This means your funds at EightCap are separated from the broker's operational funds.
EightCap Reliabilty
In terms of EightCap reliability, the broker is obligated to abide by strict regulatory requirements. In addition, EightCap also operates by the financial industry best practices and conduct regular audits to ensure that the company meets a strict compliance standard. The company's operations are managed by a group of experienced staffs to further ensure the safety of their clients' funds. Apart from all the above-mentioned measures, EightCap has also signed with a first-rate insurance company to provide insurance coverage for its clients' funds.
EightCap Trading Platforms
When it comes to trading platforms, EightCap has adopted the award-winning trading platform, the MetaTrader 4 (MT4). The MT4 platform has been widely adopted by brokers in the online trading industry and is well liked by traders from all over the world. This is because the MT4 platform comes integrated with numerous trading tools that help to enhance the trading abilities of its users.
EightCap Account Types
EightCap currently offers 2 types of trading accounts, the Standard account, and the Raw account. The main differences between the 2 types of trading accounts are the spreads and the commission traders get. On the Standard account, the average spread is about 1 pip whereas the Raw account has an average spread as low as 0.0 pip. The Raw account also has a commission of $3.5/lot. Both types of accounts require a minimum deposit of $100 to open and are available in different base currencies such as AUD, EUR, GBP, NZD, SGD, USD. You are also permitted to hedge or scalp on both types of trading accounts. EightCap offers a demo version for each type of the accounts for those who want to try out the trading conditions before committing any real money. The demo environment uses the same price feeds as the live trading environment meaning that it represents an accurate scenario of what is really happening in the markets.
Conclusion
EightCap is one of the very few forex brokers that are based in Australia. The fact that it is ASIC regulated and has offices around the globe demonstrates that this broker is serious about its international outreach program. Our review shows that the broker is responsive to the needs of its clients and offer reasonably low spreads and quality customer support.
2. RoboForex - If you don't have a good broker then I highly recommend that you sign up with RoboForex. You do want to be able to withdraw your money and quickly without any problems. Click the picture below to get a trusted broker if you don't already have one.

RoboForex Reliability
For a forex broker operating in an unregulated market, regulatory oversight is important is helping boost the trust of investors. It also provides traders the peace of mind that the broker they are dealing with is a reliable one. This is due to the fact that all regulatory agencies require companies under their jurisdictions to meet certain strict requirements before they are issued a licence to operate. For example, CySEC regulated forex brokers are required to have a minimum of 750,000 euros in operating capital before they can be issued a license. Furthermore, the brokers are required to maintain segregated accounts to keep the company's operational funds separate from the traders' funds. Apart for being regulated, RoboForex is also a member of the Cyprus's Investors Compensation Fund Scheme and the Financial Commission. With the Investors Compensation Fund scheme, RoboForex's clients can file for compensation should ever RobeForex become insolvent. Each trader can claim a maximum of 20,000 euros under this scheme. Note that this protection is only available to traders who are serviced by RoboForex (CY) Ltd.
For traders who are serviced by RoboForex Ltd, they are protected under the dispute resolution mechanism offered by the Financial Commission. The Financial Commission is an international independent body that help to resolves disputes between traders and brokers who are members of this organization. As RoboForex Ltd is a category "A" member, its traders are entitled up to $20,000 in insurance payments under the compensation scheme provided by the Financial Commission.
As further testimonial to RoboForex's reliability, the broker is a recipient of numerous awards over the past few years. The awards which they have won include:
Best ECN broker (2016)

Fastest Growing Forex Brand Asia (2014)

Best Standard Forex Broker (2014)

Best ECN broker (2013) Best Forex News & Analysis Provider

(2013)

Best Retail Forex Brand Russia & CIS (2013)

Best Retail Forex Broker (2013)

Best Execution Broker, Eastern Europe (2013)

Silver Sponsor of Automated Trading Championship (2013)

Fastest Growing ECN Broker Eastern Europe (2012)

Best forex broker for automated trading (2012)

Best broker for working with forex robots and advisors (2012)
Investment Platforms
While most brokers in the industry have provided their clients with trading platforms that are geared towards independent trading, RoboForex has gone further by providing 2 additional platforms geared to investing, namely the CopyFx and RoboForex RAMM platforms
CopyFx Platform
The CopyFx platform allows beginner traders at RoboForex to emulate the trades made by their more experienced peers. By letting traders copy the trades made by their experienced fellow traders, RoboForex gives traders the opportunity to learn from the more experienced traders.
RoboForex RAMM Platform
Another unique platform provided by RoboForex for investment is the RAMM platform. With the RAMM platform, traders at RoboForex can manage their risks with more control.
Top of the Best-Quality Service Providers
Based on the things described here you're now able to do your own research in finding the best Forex broker on the market. However we believe that you'll end up with the same result as us after a throughout evaluation of most of the trading brokers available these days on the web.
If you're interested in learning how to win at Forex trading then we recommend you to read our additional articles and guides as well. This website was created with the intention of teaching traders how to win, so they can become more than just simple recreational users. If you only trade at the best ranked binary options trading brokers and follow some basis steps, then you'll definitely have a good chance of generating substantial revenues besides having a lot of fun as well.
Its critical to select the very best options broker and platform. Forex trading can be extremely rewarding to those traders who understand Forex strategies and have the best brokers and are able to make the right choices. Winning Forex soon becomes easier. In fact, by using Forex strategies it's possible to increase one's winning ratio and generate substantial profits. Elite Trading wishes you lots of success in your trading.