Day Trading Winning Strategy
Step 1 – Go to http://www.investing.com/technical/technical-summary
Identify the currencies that have the same indicators for all the time slots.
Using the picture below is an example you would select USD/CHF, USD/CAD and NZD/USD to place your trades on: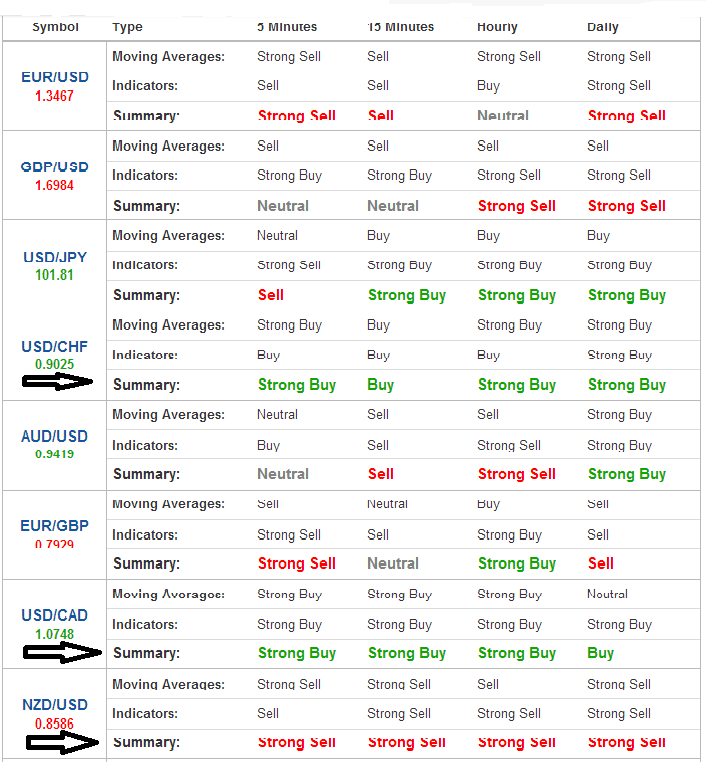 Step 2 - Log into your trading account.
Now select the currency pair to place your trade. Now look at the Traders' choice. (the small diagram on the right with the red and green bar). The majority of traders must agree with what the technical analysis is saying in order for you to place the trade. If we use the NZD/USD from above as an example. The technical summary says sell. We can safely go ahead and place a down (put) trade since we expect the currency pair to go down.
(If however, the traders' choice had the majority of traders saying buy even though the technical summary says sell, then there would be a contradiction and we would not place the trade). The technical summary and the traders' choice must agree as to the direction for you to place the trade.

Step 3 - Placing the trade
I like to place my trades between 6:00 - 8:00 a.m. Eastern time and set the expiry at 16:00 hrs (4 p.m. Eastern). In most cases let the trade run to expiration. I have a winning record of about 80% using this method.
Tips
1. Professional traders should use their chart program with technicals to determine the best position to buy the trade at.
2. Trade those stocks that are still close to the opening price. It means that they have not moved a long way up or down yet.