5 Minute Binary Options using Bollinger Bands
This is a strategy that can be used by beginners. The video below explain it all.
Watch your chart carefully looking for candles that cross the top or bottom bollinger bands. A trade can be placed each time a candle cross the top or bottom bollinger bands. You place a trade on the candle that crosses over the bollinger bands. When the candle crosses the top bollinger bands you place a down trade. When the candle crosses the bottom bollinger band then you do an up trade. This strategy can be used with 1 min charts for 60 second trading, 5 min charts for 5 min trading and 15 min charts for 15 min trading. It works best with 5 min expiration times. It work very well if you also use the stochastics to help predict the candle direction.
5 Minute Binary Options without any indicators
However, understand that this skill will enable you to become a successful trader in your own right and one who doesn't have to rely of indicators or systems that stop working after a while. This is basic chart sense that can make you money as long as trading exists!
As you have probably gathered, we identify sideways movement, mark where we think the upper and lower boundaries are and then place a 5 minute trade every time the price hits one of those boundaries. This sideways movement is common outside of the main trading sessions (e.g. between the close of the US session and the open of the Asian session or for an hour or so before the open of the European session) and for some currency pairs when their 'home' markets are closed. For
example, the AUD/NZD or the AUD/JPY is likely to be less active outside the Asian session and the EUR/GBP when the European markets are closed. Additionally, we may get sideways movement in the half hour or so before a major financial news release. Or, at any random time…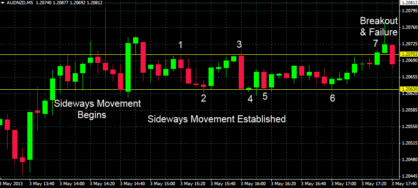 Here's a classic example of the AUD/NZD in a European afternoon and US morning. This one took a while to get started and had an attempt on the big green candle to break out but it soon fell back. By number 1 (our first trade down or 'Low') it was clear it was drifting sideways. It's a matter of experience where to put the lines but even roughly correct will produce
acceptable results. Go High when the price touches the bottom line and Low when it touches the top (you may have two trades open at once).
The lines are inserted by clicking on the Horizontal line button and clicking on the chart in the desired position (twice). You can change the colour by double clicking the line, right click for Line Properties and selecting a new colour. I prefer yellow.
Here are some other examples of suitable charts to trade. Here's the EUR/USD at a quiet period towards the end of the US session.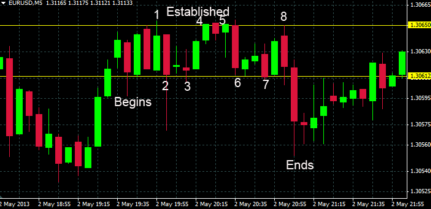 Here, our lines are only less than 4 pips apart but we get eight good trades in before it breaks out downwards and our ninth would have been a loss. However, it is wise to stop after three or four trades and be happy with your profits rather than keep going until the inevitable failure.
This one shows gold just before the open of the European Market.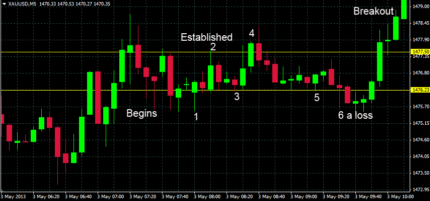 Usually, the lines will rest on the tops and bottoms of the highest and lowest candle bodies (some wicks and tails will be above and below). Again, the price is shown to an extra decimal place, so the two lines are 13 pips apart and the price of gold moves more than currency, so this is a narrow range. Once you have a loss, stop trading and wait and see if the price continues within the range or whether the opportunity has ended. It is always best to play safe and when in doubt, not to trade. The easiest way to make more profit is to cut losses and the easiest way to guarantee no loss is not to trade!
If you are not familiar with reading trading charts, take some time to scroll back through several and learn to spot the sideways movement we need.
So, to recap the complete process. First, set up as many Free Stocks chart to M5 time frame (5 minutes) as you can.
Second, log into your trading account and find the Short Term, 5 minute trading area and set up your browser so that the right hand two inches of chart is visible.
Search through the charts every half hour or so until you find a suitable sideways chart pattern forming or formed and insert an upper and lower line for the range. Generally, these will be between 4 and at most 15 pips apart. Find that instrument in the brokers list and click on the + or – next to it to open up the actual trading screen at the top. Input your stake and if the price is dropping, click 'High' ready to trade. When the price drops to hit the lower line, immediately click 'Buy' and your trade will open and a chart appear showing whether you are in or out of the money along with a 5 minute countdown clock. Obviously, if the price is rising and hits the upper line, you would click on 'Low' to repeat the process as above but trading in the opposite direction.
Until the price clearly breaks out or you have a loss, you can keep making trades. Personally, I prefer to stop at three wins in a row as I am a firm believer in playing safe and making slow and steady money rather than gambling for high profits with high risk. It's OK to have wicks and tails outside the lines but not the actual candle body.
After a few trades, it will all become easier and clear, you will make fewer mistakes and your profits will improve. Remember, this is learning to trade from your own intelligence – not relying on black and white rules and indicators. You are acquiring a useful skill and it takes time to become an expert at anything…
Remember not to trade within 10 minutes of a market open or when there is a news release that may affect your trade (the currency in question or the USD for commodities. You should check this by going to http://www.forexfactory.com/calendar.php for any 'red' releases relevant to your trade. Click on the clock and adjust it to your local time.